Conte and Mourinho switched to personalities. You can not do it this way
Conte and Mourinho switched to personalities. You can not do it this way
"Manchester City" beautifully goes into the sunset, and "MU" and "Chelsea" are struggling to keep the pace of the leader, but can not cope. The distance grows, and instead of trying to put pressure on Guardiola, Comte and Mourinho put pressure on each other. They stopped the children's pickings. And they switched to personalities. The journalists are to blame.
How to inflate a conflict out of nothing
It does not matter how exactly the two coaches treat each other. It is important that the exchange of courtesies between them never went beyond the boundaries at which you can shake hands when meeting. Still.
Mourinho responded in his style when asked if he had lost the passion for victory. It was on the eve of the match with the Derby Cup. "If I do not behave like a clown, then I lost my passion? No, there is a passion, it can be seen in my attitude towards work. I for this should not jump over the edge, like an abnormal one. I believe that it has become more mature, "Jose said. He did not name the names, but on the same day the media appeared headlines: "Mourinho called Conte and Klopp clowns." Here are a couple of examples.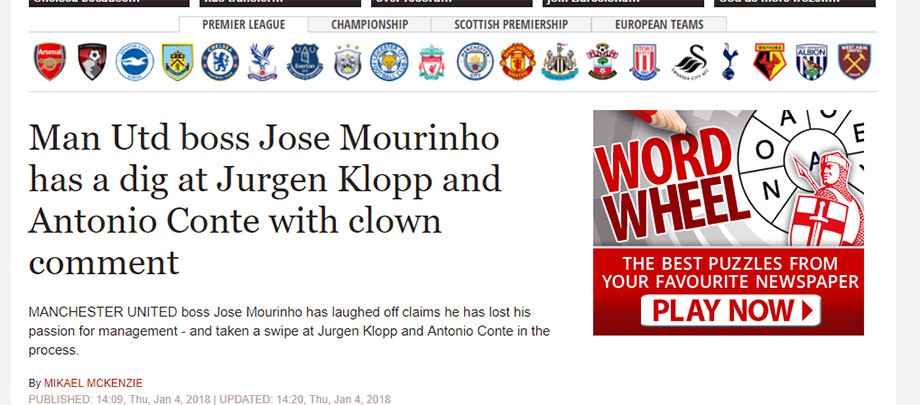 In case Antonio does not understand something or simply does not read the press, the journalist at the conference bothered to add that Jos was referring to him.
"Mourinho talked yesterday about clowns on the edge. Many people assumed that he meant you. How would you comment on this? " And Conte broke. It is done.
How to say superfluous
With a serious look in horrible English, Conte reasoned: "I think Mourinho should look at himself in the past. On yourself, you know? I think sometimes a person can forget what he said in the past, how he behaved in the past. How is it called in English … senile senility, yes? When a person does not remember what he did in the past. "
We must pay tribute to Mourinho: the next day, when he was asked, "does he want to respond to Cohn's rudeness," the Portuguese understood the source of misunderstanding. "I think you should apologize to both Comte and me. I do not blame Conte. You know that I answered the question about passion before the match. Most of you were there. I talked about myself, but Comte was passed on, as if I was talking about him. "Mourinho said that you are behaving like a clown" – so he was told. I do not know, maybe the journalist just wanted to call Conte a clown, but he did not have the courage, so he added me? No, I do not blame the Chelsea coach. I understand his reaction. "
If Jose had finished it … But he did not stop.
"I was talking about myself. Everyone knows that I have made mistakes in the past. And, of course, I will be mistaken in the future. Yes, I celebrated goals with races along the edge. I fell on my knees, rushed the crowd. I, too, sometimes can not control my reaction. So I did behave incorrectly sometimes. But what has never happened to me – and will never happen – I was not disqualified for contractual matches. It never happened and never will be. "
After this it was difficult not to answer. And Conte answered. "It's hard to comment on this behavior. If you are trying to hurt a sick subject, especially knowing the truth about what happened, because the court confirmed my innocence … if you behave this way, then you are a petty person. I think he's a small man. Do I think that the situation is over? Well, life goes on, I do not think about it all the time. Match with "MU" will be a good opportunity to clarify everything face to face. "
It was possible to finish on this, but the following question provoked Conte even more.
"Why do you think Mourinho always does this. Why does he keep talking about you all the time? " An incorrect, strange question, and again the Italian was caught. Even without noticing that they are forced to answer questions about each other day after day, Conte again switched to personalities. "We know him, he is like that. He had previously shown himself to be a small man, he continues to be, and everything goes to what will remain so in the future. Very low level. I think when a person says something, and then tries to get rid of common phrases … You need to have eggs to recognize exactly what you said. "
The questions continued, Antonio answered. He stood up for Ranieri: "Do you remember how Mourinho insulted Ranieri for his English? And then, when Ranieri was fired, put on a T-shirt in his honor. He's a fake. " He repeated that he had something to talk with Jose one-on-one. "This story is between us. We have something to discuss with him in a separate room, face to face. I'm ready. I do not know if he is ready. "
As if this was not enough, on the eve of the cup match with the "Arsenal" Conte missed another great opportunity to remain silent. He was asked if he did not regret his words, to which the Italian replied: "What, do I have such a face, as if I'm sorry? He said very serious words. I will not forget them. "
War as a series
In the comments to the video with the answers of the trainers, the fans joke that the press conferences became more interesting than the matches of both teams. Unfortunately it's true. When both sides switch to individuals, the situation becomes unpredictable, and Conte looks furious enough to wait for the continuation.
Especially since Conte has already demonstrated that he does not know how to avoid a painful topic, and is ready to turn any question about Mourinho into a holiday for the media. It's silly to expect that he will suddenly stop asking about Mourinho. At the time, as Jose himself with the "MU" for a week left to collect in Dubai, to calmly train. Then he will return, and no doubt, the journalists will have a long list of questions about Conte, to which they will ask him to respond. It's funny that now much depends on the diplomacy and non-conflict of the Portuguese. If he responds in the spirit of Comte, their war will last at least until February and will reach everyone.