The wildest removal in the history of football. How it was
The wildest removal in the history of football. How it was
Where did this happen?
January 14 in the match of the 20th round of League 1 in his field "Nantes" took the leader of the championship "PSG". Scandalous episode occurred in the 91st minute. We already had time later, many were already asleep, so we are reproducing what happened.
The central defender of the "Nantes" Diego Carlos faced Judge Tony Chapron in a rather dynamic episode. It seemed that the football player came across an arbitrator by accident. At the same time, it can be seen on the repeats that it was the French referee who cut the Brazilian, after which the judge himself collapsed on the lawn. Immediately after the fall, he hit the Nantes player Diego Carlos with his foot. Nonsense? Yes, but the further behavior of the referee is even more difficult to explain. Carlos did not take any action in response to a blow to the leg. However, Chapron showed the player a second yellow card and appointed a free kick in favor of "PSG", as if someone from this team was injured.
O que é isso, rapaz? Árbitro cai no chão, agride zagueiro Diego Carlos, do Nantes, e ainda expulsa o brasileiro no fim do jogo em que o PSG venceu por 1 a 0, pelo Francês pic.twitter.com/rjy3Q5poNP

— globoesportecom (@globoesportecom) 14 января 2018 г.
How did they react in Nantes?
President of Nantes Valdemar Kita did not hold back laughter when his football player was removed.
"I received 20 messages from around the world, in which they write to me that this is a parody of an arbitrator. What do you want me to say? If I talk too much, I will be called by an ethics commission. Presidents of clubs have no right to say anything. Chapron must rest, go to a massage. It is unacceptable that he continues to work, as in this match. This is amateurism. I do not think he did it on purpose. I do not want to believe it. In such situations, you need to apologize, and not show a red card. This is ridiculous. I've never seen this. He should be removed from work, "- quotes the words of China L'Equipe.
Striker Nantes Yasin Bammu became interested in the judge's wardrobe.
"At first I did not understand what had happened, but now I understand. It was at least strange. I wonder if the referee wore the PSG t-shirt before, "LMEquipe told Bamm.
How did Twitter react?
Instantly the Internet was filled with photographs that ridiculed Judge Chapron. They remembered the blow of Evra, the fights on the console, the famous fall of Gerrard and even the game "Twister".
Les mèmes de Tony Chapron fleurissent sur les réseaux sociaux https://t.co/YC2EIqWrCW pic.twitter.com/dQQ6mo3zrT

— L'ÉQUIPE (@lequipe) 14 января 2018 г.
EVRA vs CHAPRON😭😂 pic.twitter.com/Fq95fCmdt0

— PFC (@PassionFootClub) 15 января 2018 г.
Twitter et Tony Chapron ❤️ pic.twitter.com/Ly7IXWE2Zn

— Actu Foot (@ActuFoot_) 14 января 2018 г.
Who is Chapron?
He is 45 years old, and he has a solid background. FIFA referee since 2007. He has 64 matches at his international level. And 216 games in the championship of France. The arbitrator served, including the matches of our teams:
02.10.2012. "Spartacus" – "Celtic" (Champions League)
02.11.2010. "Ruby" – "Panathinaikos" (Champions League)
11.11.2011. Russia – Greece – 1: 1 (friendly match)
It is noteworthy that in 2007 the former Spartak player Kim Chelstrom accidentally drove Chapron to the elbow. Then the judge fell on the lawn, and he needed medical help.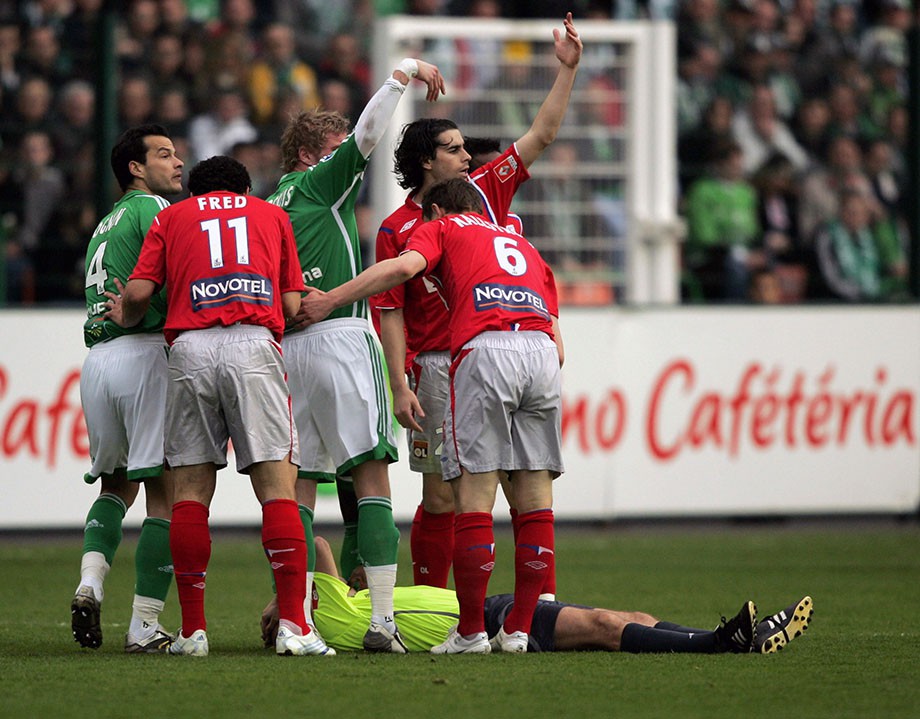 Bonus
By the way, it was not the only strange removal in the 20th round of the championship of France. In the match "Kahn" – "Lille" the red card was surprisingly received by the goalkeeper of the owners Verkutr.
After a missed goal, he prevented guests from celebrating a goal. Forward Pepe ran away from the goalkeeper, who received a straight red card. Here is what Verkutr said right after the match to the edition of Actu:
Caen's goalkeeper Vercoutre concedes and then gets sent off! 😡😡

The worst minute of his career?! pic.twitter.com/y9xnXmbvti

— Goal (@goal) 13 января 2018 г.
"The striker started provoking our fans. It's not necessary to celebrate a goal a meter from our hottest fans. I asked Pepe not to do it. Opponents started to push me away. Apparently, the judge considered that I had touched someone and deleted me. But the situation was exaggerated. For my part, there were no insults, no strikes. I do not regret anything. Yes, I should not have interfered, but is this a red card? On Thursday we will go to the disciplinary committee with photos and we will prove that the episode was misunderstood. "