"CSKA tried to prolong our relations. But I decided in January "
"CSKA tried to prolong our relations. But I decided in January "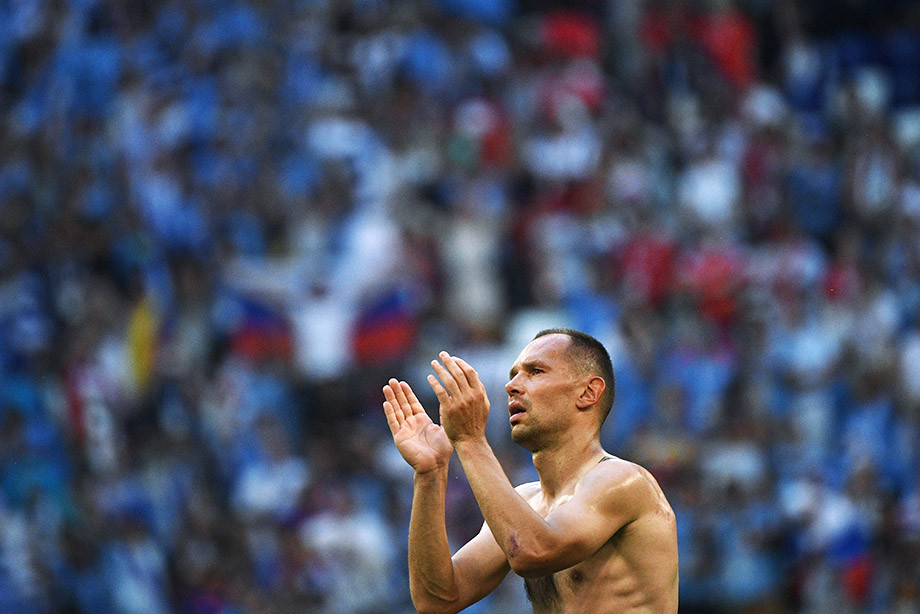 He seemed to be playing forever. But everything in this life sooner or later ends. And even such a surprisingly long career.
"If you hadn't been called to the national team, I would have done it quietly"
-You have played to 39. Honestly-have you allowed the option to stay? No. In January I announced to the management that I was finishing my career and I was going to go to the coaching work. And before I did that, I thought well.
A long time? Still 39 is a serious age by football standards.
-Would you not have stayed, even if you had raised your salary? -the matter is no longer in the money. Health is more important. I understand that experiencing such loads in 40 years is an excessive pressure on the body.
-You played 510 minutes in five matches in a row at the World Cup. How did you do it?-we are well prepared with the national team. I felt good, like the whole team. Therefore, the month could be postponed without visible problems. But to stay another year, I think, would be overkill.
Russian national team doctor: Now players are kings, but relax are their drown
Edward of the corners-about the construction of a team of men who conquered the country.
-Why have you not announced the end of your career for so long, if everything was decided in January? -CSKA management was interested in the fact that my brothers and I berezuckimi to continue their career, so the pause lasted. I thought it must be a mutual decision – the club and I should announce the final point. I did not want to play ahead and talk about it without the consent of the club.
-So the club was trying to persuade you before the last? — Up to 30 rounds we were in limbo: the club offered its terms, I expressed my opinion. If I hadn't been called to the national team, I would have finished quietly.
"I'm not going to politics. There's a lot to lie about. " Great interview with C. Berezuckim
The text you are required to read.
"The most difficult were the first minutes of the match with Saudi Arabia"
-What happened to the national team? Two years ago announced the completion of a career in it. But eventually played at the World Cup. Maybe you shouldn't have rushed that ad. -Then I was 37. I assumed that in 39 I would hardly match the level of the World Cup. That is why it is more correct to play a younger player in my position. The coach took my decision. But in 39 I was called to the national team, and as an athlete I had no moral right to refuse. I was ready to play and 45 minutes, and 15, and even just sit on the bench.
"There were those who said to you," Where are you going? "not a single person. Moreover, everyone said "thank you" even before the start of the World Cup.
-Did you get a long talk with Cherchesovym about your return? "He asked me," Will you go? " I said, "Yes, I'll go." That's it.
"I'm leaving, I'm leaving nicely." Why Ignashevich is really great
Wonderful finale of a glorious career.
-a month and a half working with cherchesovym-How do you do?-we had a good contact. There were not many coaches in my career with whom I could talk about my role in the team, about my game. In addition, Cherchesova interested in my opinion on our tactics. It was a live contact, and I felt that I could be useful not only as a football player, but also as a person with a lot of experience playing in the national team.
The whole coaching staff, you have to give him credit, was with the players in close contact. This also affected the final result.
-Few people believed in the national team before the tournament. This applies to both fans and the press. Is that zachipalo?-I've been in football for a long time, and it was a little easier for me than the other guys. But even I was very unpleasant. Maybe I will speak rudely, but the football press itself is just discredited, humiliating the main team even before the start of the tournament. Journalists write for fans, create a certain mood. and must understand it, feel the responsibility. And it turns out that journalists are the same fans, only with a certificate in their pocket. Analysts are at least one emotion.
-Fans loved Dzjubu, especially for his emotions before the penalty shootout in the match against Croatia. What did you feel when he spoke his famous speech in front of the circle? –only after the match from the news learned that he uttered such a bright speech. But at that moment, I was so tired that I just didn't hear what he was saying. I knew that I had a huge responsibility, I had to get extra strength, go out and score. At that moment I just wanted to have some rest.
Sergey Ignashevich Photo: Dmitry Golubovich, "the championship!
-Was it the most difficult moment at this World Cup? – The first minutes of the match with Saudi Arabia were the most emotionally challenging.
-Why?-the team was under very strong pressure. Nobody believed in us. In the first minutes, before the goal Jura Gazinskogo, we could see how nervous we were. We understood that we are now in the world Championship, which was prepared for a long time. As a child, we dreamed that someday we would play such a tournament, and this is the long-awaited moment, and nobody believes in us. Moreover, we are humiliated, criticized, called logs – even before the tournament. It's all heated up in the press. Okay, I've seen a lot of things. And in the national team the average age is 22-23 years, the guys never saw it. They went out to play with the full "Luzhniki", millions more in the TV. Of course, the guys were hard. When we scored, we're like a giri with flew feet. With every minute started to play better and better. The second goal gave us extra strength, and then another and third, fourth, fifth.
— in the match with Spain there was a moment when you failed in the penalty peak, after which the Chief referee listened to him being told by the judges of VAR. "Luzhniki" is like a najelektrizovalis at this moment. What did you feel? I tried to keep calm. Because at such moments it is impossible to correct or change anything. Players as cars: performed their work, played in the episode and concentrate on the further game. I understood that if I had a penalty, there was nothing to be done. Do not appoint-still play on. I understand that fans experience other emotions. By the way, the national team is not the same as the club. It feels.
What do you mean by that? -From the stands you hear not so much words of support, rechjovki or some habitual hearing things, and emotions: screams, laughter and tears. Only the team can hear the screech of women, when the ball flies into our penalty. But when the ball flies to the penalty opponent, the whole stadium begins to scream in a single impulse. There are in support of the national team and their unique moments. For example, the songs before the match. Even in France the euro for us sang "Katusha", in Russia-"Kalinku". I like these things, it's very touching.
Thank you, Russian team! These moments we will never forget
How we went from "mustache of Hope" to "Паненки" Smolova.
-Do you think that the wave of universal love for the national team and euphoria will end as abruptly as it started? Or is it a long time?-in football everything is very cyclical. I have caught different times: When the national team was destroyed, and when they were brought up. And not for the first time, after the 2008 European Championship, there was something similar. Now the team will start playing a series of matches in the League of Nations, and I am more than sure: if something goes wrong, the attitude to the national team can change again for the better.
"A good coach must be a thief."
-who offered you to stay in CSKA in a new role? Or was it your initiative?-it was a mutual decision.
-We talked about the offer of Zenit. Why didn't you go to St. Petersburg? – because I am a muscovite (smiling).
-You started the work of a coach in the CSKA youth squad at the end of July. Was it hard to readjust? I gave football a lot as a player, so for me the fact of ending my career was not painful. I feel comfortable in the role of coach, and I am absolutely not drawn to play. I am glad to train with the guys and try to teach them something, to pass on the experience. Well, a lot of myself learning a lot, something even "Podvorovyvaju".
How's that? -I take a note of coaching techniques and adapt them. The last exercise I have looked at the coach of Children's school CSKA. I watched my son's training (2008). Note. "Championship"), and on the next field he gave a very curious exercise. I recorded it on video, just in case.
-What is the main thing you understand, becoming a coach?-that on some coaching questions I previously looked at-amateurishly.
-This is what?-on physiology, on the attitude of the coach to the players. Players are always very demanding to the coach, because they forget that there are many players, and he is alone. He needs everyone to pay attention to: one should be praised, another to scold. But it should be done very carefully, not to break the atmosphere in the team. The role of assistants of the head coach is important here. There are a lot of such nuances. While you are a football player, you are, in fact, selfish. And don't even thinking about it. And when you are on the other side of the field, you discover a new world.
Interesting? Yes, I'm very curious about him. I watch football, I read special literature, communicate with coaches, look at children – very much around, for what it is possible to catch and use in the work. And I now enjoy working with coach double CSKA Andrey Aksenov.
You don't exactly remember Ignashevicha so
Sergey Ignashevich announced the end of his career. We recall the best moments that the fans experienced with him.
"Plan for the next year-get a license"
— what changed after the end of your career in your way of life? -The main conclusion-I feel great. I did not think that the completion of the game career so strikingly reflected on my condition. For 20 years I have been tired all the time-either after training or after the game. It's a completely different state right now. I devote a lot of time to my children. The strength and energy are enough for them and their wife and friends, and other events.
-In general, the world is now in front of you in new colors? -Yes, and I am very comfortable. I used to have eight to nine hours to sleep. Now we have six or seven. For example, before our interview, I slept for six hours. Yesterday CSKA played in Kazan, arrived late. If I had played in that match, I would have sat in front of you in a different state.
I know you love the theatre. What's your favorite? -"Workshop Fomenko" on Kutuzovsky.
-You also had a dream to fly to Machu Picchu, the City of Ancient America, located in the territory of modern Peru. Is she still alive? -Alas, no longer. Three years in a row, I tried to build a company. I had a task not only to see Machu Picchu, but to pass the Inca Trail. We have to go for five days, spend the night on the road in a tent. They wanted to gather the company, but there were no players among them. The guys get tired by the end of the season and want a comfortable rest.
— three things for the next year that you want to perform? -Only one thing I really care about-coaching license. In December I have exams…
Sergey Ignashevich Photo: Dmitry Golubovich, "the championship!