FC Dynamo 2000. Where are they now?
FC Dynamo 2000. Where are they now?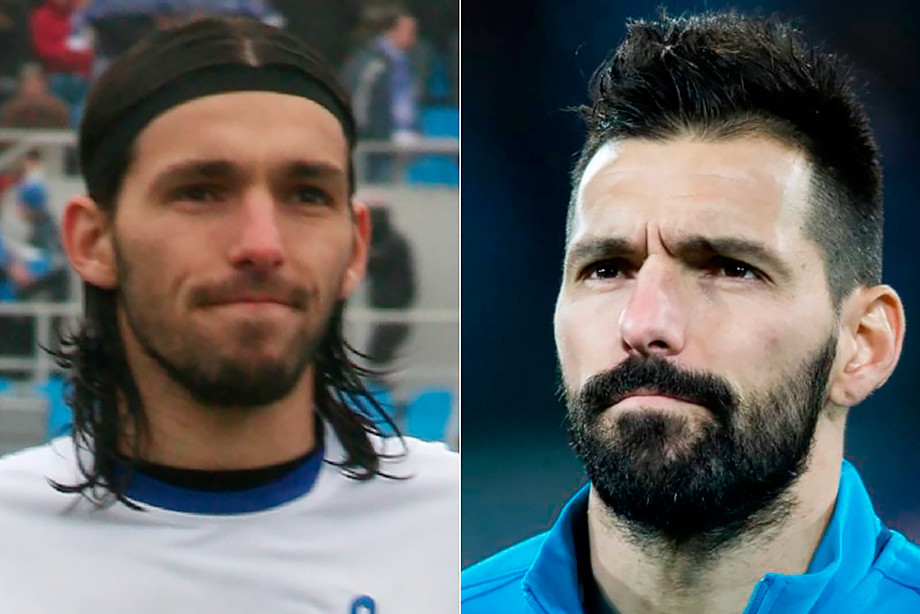 Miguel Danny
The big letter "D" is still visible on the hand of the Portuguese. He devoted this tattoo to Dynamo, his first club in Russia. Later, Danny moved to Zenit for huge even by current standards of money (30 million euros). Last summer, Miguel after nine years in St. Petersburg went to Prague "Slavia". Recently returned to his native "Maritimo", where he became a player of the foundation.
Photo: "Championship"/getty Images
Douglas Costa and 7 other foreign players with tattoos in Russian
After moving to Juventus, Costa made a tattoo with the inscription in the Russian language. We remember other foreigners with Cyrillic on the body.
Derlei
One of the few successful acquisitions of Dynamo in the mid-2000s. The Brazilian was on a good account at FC Porto Mourinho, and in Russia he did not have a fool. Regularly scored and benefited the club. After a couple of seasons returned to Portugal, and finished in Brazil. In 2016 Derlei came to the base of the white-blue. Rumored that he will work with the club as an agent, but not yet grown.
Photo: "Championship"/Dmitry Golubovich, "championship"
Jovan Tanasievich
He spent more than a hundred games for Dynamo, where he looked silkin. In those days Fedorychevskih money was not yet, and Jugoslav got into the team for the inherent pennies. Someone considered Tanasievicha a rude player, but they said: "Fighter!". Jovan early graduated from his career (33 years). Since then he has been working as an agent and has been involved in some transitions to RPL.
Maniche
Another former ward of Mourinho was not on this list for the service of white-blue. The name is just loud. For this guy, Dynamo gave a record 16 million euros. Portuguese PROMUCHALSJA in Russia for about a year and has gone to England, complaining on weather. Fifty matches for Portugal, performances in Chelsea and Atletico-a bright career Maniche ended in 2012. Now he is the president of the amateur club "Kamasha" from Madeira. He says that he is open to proposals from Russia.
Photo: Fcdynamo. RU/Dmitry Golubovich, "championship"
Costinha
The same story that with Maniche-Costinha spent a dozen games for Dynamo. In Russia more often remember his quarrel with sjominym. After Moscow, he and Maniche played in Atletico, and his career ended in 2010 in "Atalante". Then he was sporting director of Sporting, where he was fired for public criticism of the club. With the same maniche coached "Pacos de Ferreira", who met with Zenit in champions. Now trains another Portuguese club-"Nacional".
Photo: Fcdynamo. ru/Denis Tyrin, "championship"
Jurkas Seitaridis
Finally, the last of the Trinity star football players FC Porto, who came to Dynamo in the summer of 2005. He came to Russia in the status of European champion, but he did not remember anything special. According to the example of the former partners from Moscow went to Madrid, where played several seasons in the main lineup. At the very end of his career, the Greek returned to Panathinaikos, where he finished his career. Since then, Jurkase heard only that he had his own profile on "IMDB" after shooting in a football series.
Photo: Christian Fischer/Getty images/Instagram. com/Giourkas_seitaridis
The Portuguese past Dynamo
Before the match "Dynamo" with the Portuguese "Estoril" remember the Portuguese colony of white-blue 10-year-old: Maniche, Danny and others.
Luke Uilkshir
He caught the end of the zero in Dynamo, becoming the first Australian in RPL. Luke-one of the cult legionnaires of the club, in it he spent about 150 games. Few who know that one of the first his talent was seen by Gus Hiddink, giving him a chance at the heart of the Australian team. For years in Russia Uilkshir wound a Russian wife and Obrusel. And let him win in his homeland, see how he was rooting for our team during the 2018 World Cup.
Photo: Alexander Safonov, "championship"/mark Kolbe/Getty Images
"New Year-two Mandarin and vodka". As Luke Uilkshir became a Russian
"Championship" is visited by Luke Uilkshira and his Russian wife Christina: The story of Obrusenija first Australian RFPL.
Siseru
Some miraculously lingered in dynamo for several years. Guinea with a Portuguese passport rarely played at the base, but he still ran around 40 games for white-blue. In 2009, the contract was disnegotiated by mutual agreement and returned to Portugal. Later he came to play in Kazakhstan and Turkey, but now again at home. Plays for the team of the second Portuguese division-"Arouca".
Photo: Dima Korotayev/Epsilon/Getty images/thefinalball.com
Leandro Fernandez
Another important player in the history of Dynamo. In Europe, Fernandez played only here. Almost ten years and more than 200 matches in Russia. Among other things, the defender played five matches for Argentina's first national team and took the gold of the Olympic Games in 2004. After playing with us, Leo returned to his native "Newell Old Boys". Last season played in Uruguayan "Danubio".
Photo: Sergey Fedoseev, "championship"/newellsoldboys.com.ar
From Volodin to Tochilina. 10 main "livers" dynamo
We continue to tell about the players, played the greatest number of matches for Russian clubs. The turn of "guards" dynamo.
Nuno
The goalkeeper held in Dynamo only one season, but he did not play. Hardly at Sjomine it was possible to win competition at Sergey Ovchinnikov. "One day I was pushed with Sergei," recalled Portuguese. Leaving Russia in the past, Portuguese sat for a couple of years on the bench "Porto" and started his coaching career. Nuno already managed to steer the "Valencia", and now Trains "Wolves", with which it has not very successfully started in the NS.
Legionnaires of Zenit 2000. Where are they now?
We remember the best Legionnaires of Zenit from the 2000s.
Legionary of the "Locomotive" of 2000-ies. Where are they now?
Not all of them survived to the present day.
Legionnaires of CSKA 2000-X. Where are they now?
While "Army" one after another sign new foreigners, remember those who brought the team trophies.