He came to the 2018 World Cup and stayed in Russia. The incredible story of Fabio Aleixo
He came to the 2018 World Cup and stayed in Russia. The incredible story of Fabio Aleixo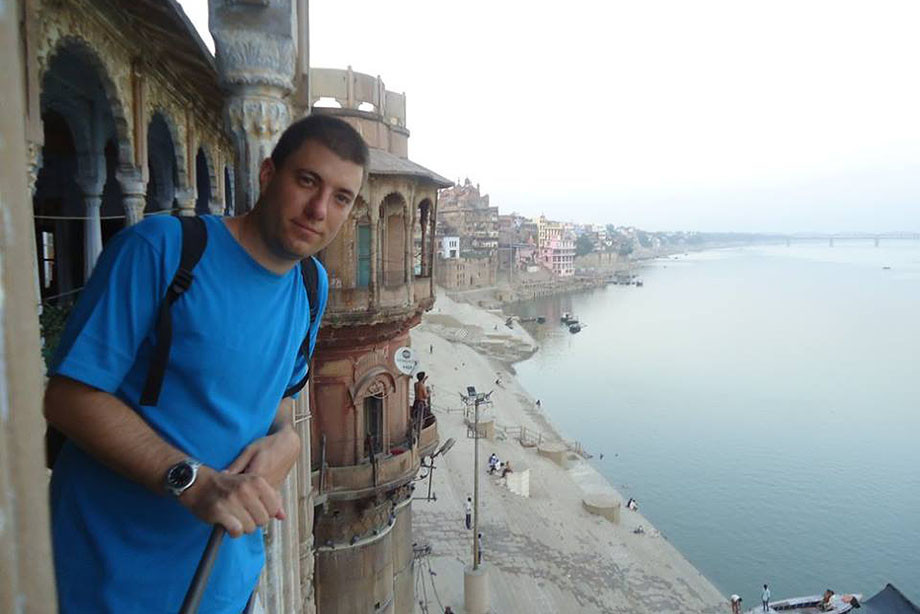 In a hangout of football journalists Fabio is a star. It can be seen regularly at matches, trainings and press conferences. A small harmless guy who speaks Russian with an accent and loves football. The Brazilian came to Russia alone, but now he has a lot of friends, apartment and work. Next-the monologue of Fabio Aleixo.
Salenko, Metro
-I studied in a regular Brazilian school. I remember we were shown Russia on the map. It was a second or third grade. In the tenth we have already studied history: Lenin, Stalin, communism, Karl Marx… But my first remembering about Russia is the World Cup 1994. I was only 7 years old, but I well remember the group: Brazil, Russia, Sweden and Cameroon. It was the first world Championship I've seen. At home on TV watched the match between Brazil and Russia, for which played Salenko.
In general, the idea of Russia was largely based on films like "James Bond: Agent 007." The USSR is a big and evil enemy of Great Britain and the USA. Mafia, vodka, negative characters. I love to travel. Already visited 65 countries. I like to travel to places where other Brazilians do not get: India, Egypt, China, Malaysia, Cambodia, Thailand, Bolivia.
Photo: From the personal archive of Fabio Alejshe
For Brazilians Russia is as distant. People are afraid to go here, and I wanted to try. As a result, I came to Russia four times. First went to 2011 with mom. I almost always went with her, after my father's death from pancreatitis. In Moscow I bought a guide and started to get acquainted with your alphabet. The subway scares me! I love to ride it, but there was only Cyrillic. Not a word in English. I enjoyed Moscow and Peter, but there was a nuisance at the end of the trip. I hung my jacket with a camera in the café, and when I put it on, it wasn't in my pocket anymore. I was left without all the cool shots with the snow!!! I needed to go back to Russia.
In 2013 I came again. At first looked Ukraine, there has not begun a revolution. And then to Russia. I liked everything again, so in 2017 I was here. He worked at the Confederations Cup and taught Russian – intensive group course for 200 hours. And finally, I came to Moscow in February, 2018 and I remain here till now.
Frost, Apartment
He was in the match of CSKA – "Crvena star" in February this year. Wild Frost! The temperature is under-20 degrees. My cell phone is not charged on the podium-I thought there was a problem with the wire, but no. When the phone warmed in the glove, it came alive. Leaving the stadium, I slipped and fell on the butt. I had to get used to that.
At first I was reporting on how Russia is preparing for the World Cup, what the local league is, whether the problem of football hooligans, homophobia and racism is actual. Even before Mundial I visited all 11 cities of the tournament. Including thanks to the press tour organized by the organizing committee of the 2018 World Cup. I asked to be entered on such trips.
The articles were made exclusively for the Brazilian edition Folha de S. Paulo. I have a contract with me – from February until the end of the World Cup. I have agreed that my salary will be a little more to pay for housing. One-room apartment was leaving about a third of the salary. I had enough to live normally. Rented a house in Kolomenskoye, then moved to Sokolniki, now moving again. Opened an account with Sberbank and transferred money through TransferWise. Commission is something about 3%. I was surprised how easy it is to open a bank account in Russia. Only the passport, migration card and registration were required.
Blog, Savoie
In addition to the main work, I made reports for foreign publications. Under contract with Folha de S. Paulo I could not work with other Brazilian media. And, for example, with the Uruguayan newspaper "El Observador"-no problem. For this edition I wrote a report from the base, which was later visited by the national team of Uruguay. Thank you to the press tour to Nizhny Novgorod and my friend, who works as an editor in "El Observador".
Plus led the blog "Privet, Russia". Updated it every day. Average attendance was at the level of 10-15 thousand people. Although some articles have collected more views. The most readable-the cheerleader, which was lit in the sex.
"I'm not actress!" Candid interview with the same cheerleader in Kokoshnik
One of the symbols of the 2018 World Cup Natalia Andreev tells why all mistaken.
For the 2018 World Cup I visited all 12 matches in Moscow and went to Sochi for the Russia-Croatia meeting. It was the brightest game for me. I even caught myself thinking that I'm worried about the Russian team more than the Brazilian. including because I'm friends with Mario. Most feared he would go to beat the penalty, because it is not his.
It is funny, who of the fans became famous thanks to the 2018 World Cup. In Russia, everyone learned about the Brazilian Tomer Savoy, who shouted in the camera mat. He now has a bunch of Russian subscribers, although in Brazil no one has heard of him so far. But there they loved the Russian fan from Samara. A guy with a frantic look now knows all of Brazil. The fan was shown during the broadcast of the match. The fan sat on the podium, hid his face behind the Brazilian flag and seemed an alien. The people joked that the aliens are rooting for the Neymar team. This is what the fans are saying even now. I just flipping the Brazilian news. The headline of one of them: "The mystical fan and other football stars repeated the gesture of Ali's deed."
Mario Shprygin
My best material from Russia is an interview with Alexander Shpryginym. The theme of hooligans was popular before the 2018 World Cup. And he was arrested and deported at Euro 2016. Such a frightening person who hanako gays and do not mind to fight. I knew it was better not to provoke questions. Though at a meeting in Brawler's pub it seemed to me absolutely calm and polite person. This was my first interview entirely in Russian-30 minutes. After the conversation I stayed at this establishment to dine. When Shprygin headed from another table to the exit from the place, he walked past me and patted on the shoulder with the words: "It will be necessary to help, go."
Of the Brazilians in RPL I am most befriended with Mario Fernandez. We correspond almost every day. He helps me with football tickets. Mario and I come from one city-San Caetano. It's amazing that we met on the other side of the planet, because the city is tiny. The population is only 150 thousand people.
Because of the 2018 World Cup, Mario became the most talked-about person in San Caetano. My mother told me that after the match Russia-Croatia was walking around the city and on every corner discussed a guy from San Caetano, who scored from the game, but did not realize the penalty. In Russia, he too began to learn much more. A year ago we went to the center of Moscow for two hours and it was only three times asked to be photographed. And now we walked 50 times! Mario asked me to buy him a fridge magnet. Whether he did not have time, or he did not know where to go. Mario wanted me to get the money back for the magnets, but I said I'd rather give it to Mike. After the match 1/8 finals with the Spaniards he handed me the T-shirt in which he played. I washed it and now I wear it.
I'm still familiar with Guilherme. We saw the Catholic Church on Krasnopresnenskaya. There is a service in Portuguese on Sundays. Guilherme goes there regularly, and I only once went to Easter.
TV, bureaucracy
At some point I was called from the first channel and invited to the show "let Them talk." I do not know how they had my number, but it was easy to find, considering how much I exchanged contacts with colleagues and the organizing committee of the 2018 World Cup. I was asked to tell about how foreigners see Russia. On the show I confirmed that in Brazil, some people really think that in Russia there are bears walking through the streets.
It is difficult for me to compare such transfers with the Brazilian. There is no such thing where I was born. A lot of guests came, but half of them said nothing. The discussion was a bit eccentric and erratic. I doubt I'll go there again. I spent an hour and a half, and I said a minute. But still, it was a good experience. And also I immediately wrote many acquaintances that have seen me on TV.
For almost 300 days in Russia I was only once stopped by a policeman. He asked for papers, I started showing him a Brazilian passport and a work visa. The employee immediately released me, wishing good luck. Not even a minute passed. There was a case in Bronnicah. I was reporting on the city and the Argentine national team a month and a half before her arrival. When I photographed the base, a security guard came up to me and said I couldn't take pictures. I said, "I'm sorry, but I'm standing in the street, not on someone's territory, and I'm going to take pictures. I will make 4-5 more photos and leave, but not before ".
What is a bit tense in Russia is the bureaucracy. Each time you need to register for a change of accommodation. And on work ask for constant confirmation. I requested information from the Moscow Metro before the 2018 World Cup. Not shooting organized, but just information regarding Mundial. He sent a journalist's certificate, but that was not enough. requested the data of my publication. As a result, I abandoned because it was not worth the effort.
Producer, girls
And in football I was surprised by the situation at the Derby "Spartak" – Dynamo. It was astounding that no red-white player appeared in the mixed zone. Even after the victory Spartak did not communicate with the press. In Brazil, after such journalists would go to clarify relations with the press Attaché, would be harshly indignant, and then the people react more calmly.
Over time I made sure that I like Russia and I want to stay. Started looking for a job. Helped that I know several languages: Portuguese, Spanish, English, Russian, read German, speak Italian. As a result, I got a producer for the Spanish version of the Russia Today TV channel. After two test weeks, I was taken. I am engaged in the selection of news, topical topics for Latin America, and also invite guests to live.
If you wish I could work in Brazil. The options were, but I wanted to try myself in Russia. It is safer here, you can safely walk through the streets. I like the local culture. I even went to the mafia-a game that was invented in Russia. Now I have more friends in here than in Brazil. Girlfriends, too.
I wrote a girl named Diana in "Instagram". She's a fan of Mario Fernandez and saw my interview about him. We met, went to the match and walked. Generally Russian girls are prettier than Brazilian.