"Spartak" 2000-S Legionnaires. Where are they now?
"Spartak" 2000-S Legionnaires. Where are they now?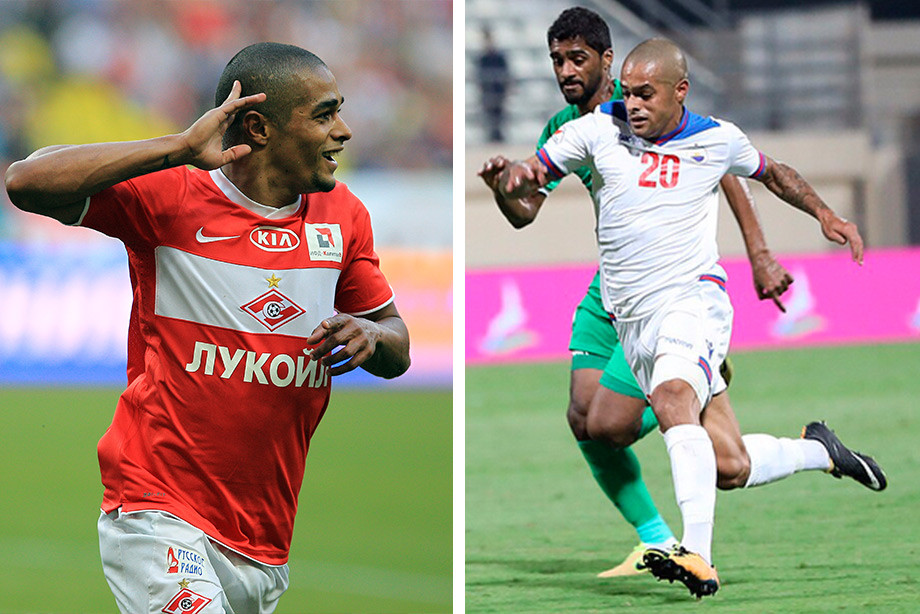 Martin Stranzl
Taski is not the first player of "Stuttgart" who moved to Spartak. In 2006 Muscovites bought the Austrian shtranclja. 3 million euros acquitted-Martin spent more than a hundred matches in the club and won Silver RPL several times. At that time he had already been called to the Austrian national team. The footballer left Russia only in 2010, returning back to Bundesliga. There he played another hundred matches for "Borussia" from Mönchengladbach. In 2016 he almost stopped playing at the base and decided to complete his career. Since then he has been resting from football.
Martin Stranzl Photo: RIA Novosti/TF-images/Getty images
Fernando Cavenaghi
About the Argentine in Russia most often remember two things. The first is that in 2004 he came to Spartak for a lot of money. The second-his goal in the gates of "Rostov" in Luzhniki.
Video
Cavenaghi did not meet the expectations of the fans. In Europe, he played for the middle clubs, and did not become a star. Argentinian traveled half in search of himself and finished playing in Cyprus. Leaving football at an early age (33 years) is associated with a knee injury. On his farewell match, which was held a year ago, came 60 thousand. Fans. So they thanked him for returning to the River Plate at a difficult moment when the club flew out of the High League.
Fernando Cavenaghi Photo: "The Championship"/instagram.com/fercaveoficial
End of the tour. Spartak's most bizarre Legionnaire quit football
He never treated the quarry too seriously, and it prevented Fernando Cavenaghi from becoming a star.
Santos Mozart
Like many Brazilians, showed themselves unstable. On the one hand-spoke in Russian, was the link of defense with the attack and played to the captain's dressing. On the other hand, I got stupid removals, slowed the game and regularly went to the double for nonsporting reasons. The player with a musical surname has left Russia in 2009, by mutual agreement terminating the contract with club. Then in his career there was a return to Brazil, performance in Italy and China. In 2013, Mozart decided to become a coach and now trains the youth squad "Koritiby".
Santos Mozart Photo: RIA Novosti/Twitter.com/gioiasport
Wojciech Kowalewski
He moved to Moscow from Donetsk and spent almost five years in Spartak. The fans have a special attitude towards him. "Fratrija" to this day congratulates him on his birthday, and Wojciech at times arrives in Russia for the matches of the former club. The main part of life the pole spends at home. There he until recently was a goalkeeper coach in "Legia", which he left this summer. Now he is engaged in own football academy.
Wojciech Kowalewski Photo: Lars Baron/bongarts/Getty images)
Stipe Pletikosa
Also came from "Miner" and for a long time became the first club number. It is fair to say that his career in Russia broke the limit. Because of him Stipe sat on the bench, giving way to the frame exiled Dzhanaevu. Then he tried to gain foothold in London's Tottenham, but never played a single match in the NS. As a result, he returned to Russia and played for Rostov for a long time. He finished his career in the Spanish "Deportivo" game against Real Madrid. Croat still remains a media persona, often appearing on Croatian TV as a commentator and expert. At the 2018 World Cup he came in the same status.
Stipe Pletikosa Photo: Jeff J Mitchell/Mike Kireev/Getty Images
"Everyone in Croatia was interested in how Ignashevich returned to the national team in almost 40 years."
Stipe Pletikosa answers the main questions before the match between Russia and Croatia.
Nemanja Vidic
Coming to Spartak, was not nounejmom like a young Ivanovich. According to Transfermarkt, the club gave 4 and a half million euros for it. Vidic played in Moscow for a short time, but remembered a reliable game in the center of Defense. What was in his career then-you know. The Serbian finished playing in "Inter" – in 2015 he spent the last match. This summer came to Russia at the World Cup and for the first time visited "opening arena". Now he is studying for a PRO license and admitted that he is not averse to becoming a coach of red and white.
Nemanja Vidic Photo: RIA Novosti/Ross Kinnaird/Getty Images
Martin Jiranek
He appeared in Spartak after Euro 2004 and later became his captain. Čech we liked so much that after Moscow he did not henchman to play in Grozny and Tomsk. After that there was a return to the Czech Republic. Last season Martin played was a part of the local "dukly", with which he almost flew out of the High League. Jiranek still very warmly refers to "Spartak" and Russia, has been rooting for our team at the World Cup and at times is running his Instagram in Russian.
Martin Jiranek Photo: Epsilon/Getty images/fkdukla.cz
Radoslaw Kovacs
Another Czech defender of Spartak, who played with Jiranekom at about one time. Kovacs remembered not only a huge contribution to several silver seasons, but also the fact that the cut of the fan, outta on the field. By the way, he got a yellow card for that.
Video
Recently, Kovacs is a coach of the Prague "Sparta". In the winter he told that he was close to getting coaching license A. Getting the PRO category is also in the plans. There are chances to see Kovach at the head of the football club.
Radoslaw Kovacs Photo: Alexander Mysjakin, "championship"/Matej Divizna/Getty Images
Alex
The case where inclusion in the list is justified even for one year 2009. The Brazilian became the leader of Spartacus, and later received a captain's bandage and a challenge to the Brazilian national team. The silver of Muscovites in that year is in many respects his merit. After a while in his game came a recession, which many associated with psychological problems. Traumas began to appear with them. Alex returned to Brazil in 2011 because of a difficult passing wife's pregnancy. After the birth of the child Brazilian played in Qatar. Now he lives in Porto Alegre and thinks about the end of his career. In his words, last year he wanted to return to Spartak, but there was no interest.
Alex Photo: RIA Novosti/Instagram.com/alex12_oficial
Welliton
One of the most successful legionnaires in the history of "Spartacus" could Be in "loco" or "Dynamo". The first in the end chose Odemwingie, with the second also not grown. Welliton went to Spartak, and it was a very beautiful story. Yes, there were racist scandals and trauma, moisture Akinfeevu, but the 61 scored ball speaks for itself. The Brazilian left Moscow only in 2013 and returned to his homeland. Then I successfully played in Turkey. Last years Welliton scores for "El Sharjah" from the Emirates.
Welliton Photo: Alexander Mysjakin, "championship"/sharjahfc.gov.ae
Welliton: I still haven't taken a suitcase with money from Moscow
Welliton gives an interview about the collision with Akinfeevym, leaving Spartak, robbery in Moscow and dances Samba sow in Turkey.