"we take the team players who are worthy as sportsmen and as citizens"
"we take the team players who are worthy as sportsmen and as citizens"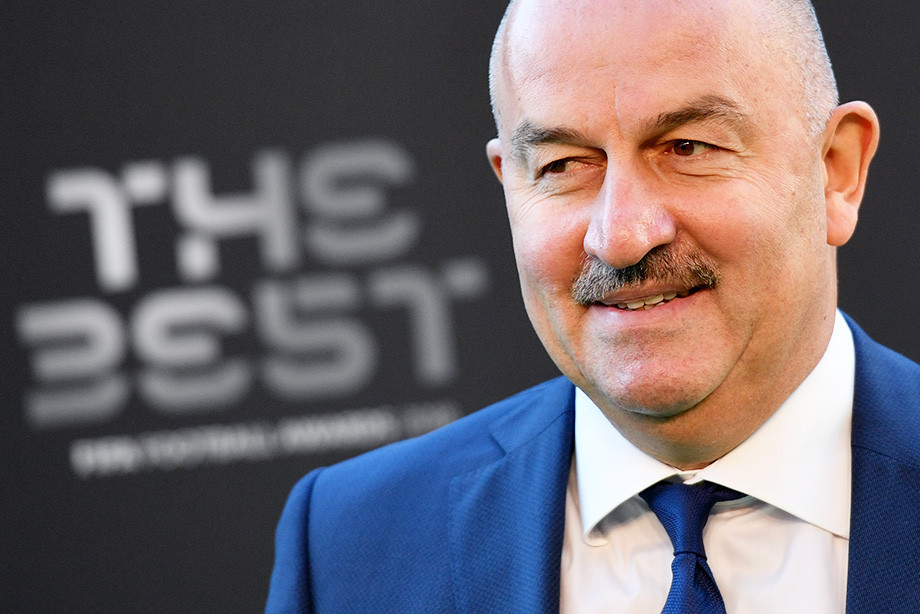 The head coach of the Russian national team Stanislav Cherchesov gave an interview to TV presenter Vladimir Pozner on the first channel on the evening of October 8. Highlight the main topics of the INTERVIEW.
Success at the World championships
-success in our understanding exists in two Hypostases. There are sports-it's cups and medals, and there is an emotional. We can be happy with our emotional success. People were sick, we gave people pleasure. And in sports Plan-the Cup one, and it was taken by the French. We did not take medals, so in this regard, of course, we would like More. did I doubt when I proposed to head the national team? I can be said to be Called. In my understanding, once I have been approached, I must give Good.
FIFA national team ranking
-all the teams that were in our situation, lost in the Ranking. Without official games, the rating Falls. Someone has more, someone less, but all the rating has become Worse. It happened that we won, for example, romania, but fell in the ranking even Lower. And sometimes they did not play the match and Rose. There are things that we cannot influence, and we do not pay attention to it. Why be distracted by something we can't influence?
Dope
"striving to win at any price is not about Us. There are cyclical sports when it is necessary to be in order on a certain day. There's no such thing in Football. You train all the Time. In football many components, it is necessary not only to run and Jump.
FIFA Coach of the Year award
-there are objective things: Deschamps won the world championship, Zidane won the champions league, Simeon-europa League. These are tangible things. In the voting for the coach of the year I put them on the first, second and third Place. If I had won the FIFA award to the best coach of the year, I would have felt uncomfortable.
FIFA national team without players of the Russian national team
"i can be biased here. Have personal sympathy. I think Akinfeev could have been there. and Dzyuba and Golovin. and ignashevich, who in 39 years showed the result, which was not expected from Him. But we did not choose, we were not asked.
Fifa prize: for whom ronaldo, Messi and Akinfeev voted
The captain of the Russian national team helped was Win.
Victory over Spain
"we knew their strengths, and our Own. knew their weaknesses, and that their weaknesses should be hidden, put Aside. Understood how they were preparing. Before this game was the most difficult moment at the coaching staff. We have been convincing players for a few days that we need to change the system from four defenders to Five. It was Hard. first, why abandon the system that brings you results? secondly, The players are ambitious and selfish, and someone would not have been on the Pitch. It took a lot of time and words to convince the team that only so, stepping on his throat and forgetting about football, it is possible. Because you can't play football with the SPANIARDS. We've been discussing this with Dalichem NOW. Croats with Spaniards recently played, lost 0:6. Because you can't play football with Them.
Top clubs, money, legionnaires, motivation
-when I was a player, there was not yet a group stage of the champions league, played immediately on the Shootout. Then the accident could Happen. The conditional "anderlecht" or PSV could win Something. Now such teams can no longer win, there are no accidents. the main thing, not for how many who come, and with what Mood. It depends on the Nature. is Ronaldo missing something? But he is an athlete, he won the fifth "golden ball" and wants a sixth, so he moved to another club to have a new Motivation. I run the players and do not see that only finances matter. There are motivational moments. Sports interest should Motivate. is it right that footballers all over the world get so much more teachers and doctors? If nobody looked at this program, you wouldn't be working here and I wouldn't be invited. Much depends on the rating. Someone collects 100, 000 spectators, shows someone on television, determines the Rating. It's a business. under the ussr, youth football was much stronger than it is NOW. Then the football came to those who want to play, not for big money. But now, maybe I sugarcoat, but my neighbor says that his child after the World Cup wanted to change the karate section to Football. Little Conquest. Someone leads, someone wants. The main thing is that those who select children are guided by the correct selection Criteria.
"i will be able to reboot in the national team." Golovin returned to Russia
And our team in front of Sweden lost due to injury yerokhin.
"we have turned the consciousness a little in the other direction"
— you reminded yourself how it was after the European championship. Petitions to disband something, such were the Sentiments. But we understood that we are a big sports country. We have to Match. And the motto Was: what on the field that the player must meet a certain level. The consciousness should be changed to the players, and this automatically changes consciousness to the Fans. We in the team attract players who are worthy both as sportsmen and as citizens of our country. We live in the people and hear what they say. We're not playing for ourselves in the End. If you play for yourself, no one will See. We changed the attitude of the players, there was a corresponding selection of Players. as I said before, we can't make us love or respect anyone. We can only good game and attitude to business and behavior to turn to US people. We did it.
Questionnaire of Marcel Proust
I don't envy anyone. -i have not dreamed for a long time, set Goals. Goals that are not achieved are. Just don't ask me what. I will Say-will start to put Barriers. "i don't feel any hatred. "i appreciate naturalness more than all human qualities. -i personally do not have enough patience. But it is gradually evolving. "an Act that I regret?" You mean, especially? If not, maybe someone can Tell. I may not have noticed something like that. "fear is the wrong word. But when you go to work, you have to do it. It's a responsibility, another feeling. I sleep Well. -if I could choose any team in the world and become its coach? I already work in the main team of the Country. He worked in Spartak. As Chapaev said, languages should be known. And since we know german, probably bayern. "what shall I tell the creator?" It will be a great honor. As I said, if I was suddenly insulted or humiliated by someone… moreover, when you take a leadership position, you may not pay attention… Let him reconcile Me.